Here at Wicksteed we are proud of our heritage and every day we aim to continue the legacy left behind by Charles Wicksteed to allow kids to continue playing and exploring in his park
Wicksteed Park opened in 1921, making it the oldest theme park on UK mainland. Its founder, Charles Wicksteed purchased the land in 1913.
His initial goal was to create a model village for the local community, however following World War One and housing reforms, Charles looked to develop a park for people to spend their leisure time. He set up a charitable trust in 1916 and went on to build a number of prefabricated houses – some of which still exist and are within the park grounds.
Volunteering
There are many ways to volunteer at Wicksteed Park. Our volunteers are a huge part of keeping the park looking as great as it does and helps us to maintain our heritage. We have opportunities for gardening, archiving, events ad so much more.
How Much Time Do I Give?
We value the time you can spend with us, this can be occasional or regular with anything from an hour a month. Much of our work is seasonal and we are at our busiest during the April to September or over Christmas. This is when we need the most help, particularly keeping the park welcoming and supporting our education and events programme.
During the colder months, the park is still open to the public, but many of the rides are closed. We use this time to give the park some TLC, with a lick of paint and doing any repairs or upgrades. This is also when much of the wildlife and conservation activities happen, such as tree planting.
How much time you spend here and when, is up to you, think about the things that are of interest to you and get in touch.
How Old Do I Need to Be?
We encourage volunteering from the age of 16 at the park and welcome younger volunteers supported and led through schools and community groups for insurance purposes.
There is no upper age limit! If you're interested, we'll find you things to do….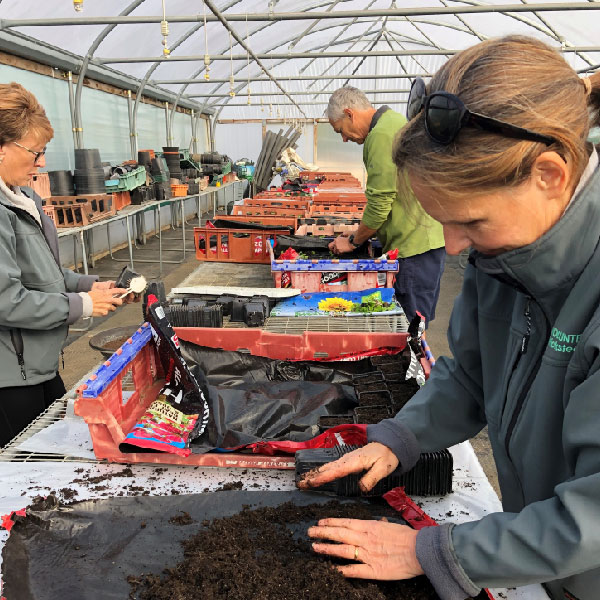 Commemorate a special someone in the park with two choices of memorial types placed in a designated area of the park. By making a donation to Wicksteed Park (the Park), you can commemorate someone special by having a short dedication recorded in the Reflections Register. Depending on the choice of donation, the Park will purchase one of the two memorials, which will be placed in a designated area of the Park. Email community@wicksteedpark.org to retrieve your form.
Wicksteed Park is one of Northamptonshire's leading visitor attractions which welcomes around a million visitors a year to its rides and other attractions. We are looking for new trustees to reflect the diverse communities that Wicksteed Charitable Trust is proud to support, we are committed to building a Board dedicated to furthering diversity and inclusion. We actively and warmly encourage applications therefore from a broad range of backgrounds and experiences.