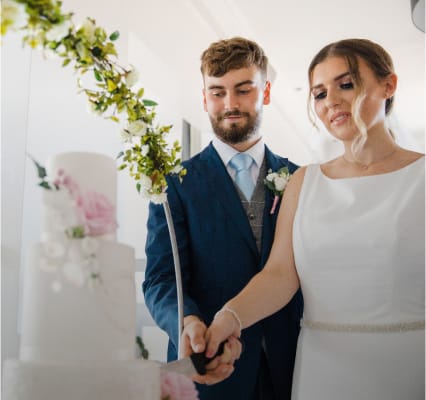 Our Venue
Nestled in 147 acres of exquisite parkland, lies the legendary Wicksteed Park – a venue that promises an unparalleled wedding experience. With a rich history and stunning surroundings, your special day will be nothing short of magical.
Indulge in an unforgettable wedding day experience with Wicksteed Park , where we offer not just one, but three exquisite wedding venues. Each of our self – contained spaces is unique, providing you with a plethora of options to ensure your big day is tailor – made to your dreams. Our specialised and bespoke service will ensure every detail is taken care of, leaving you to revel in the magic of your special day. Imagine walking down the aisle, surrounded by 147 acres of picturesque parkland, or taking a romantic stroll around our stunning lake. The possibilities are endless, and the memories you create will be cherished forever, not only by you but also your beloved guests. With Wicksteed Park, your wedding day will be nothing short of extraordinary.
Room Capacity
Capacity
AV Equipment
Terrace Suite
Our modern Terrace Suite is newly refurbished and boasts its own private sun terrace overlooking the grounds. Perfect for a summer evening drinks reception with a glass of champagne.
This venue is split over 2 levels with a large dance floor on the upper level. It has its own private entrance and fully staffed bar making this the perfect event space within the park.
Request a Quote
Garden Suite
Our newly renovated Garden room is a luxurious area for an intimate ceremony that is tailored to you. With beautiful scenic views of the fountain and luscious garden. Make your moment memorable with our elegant venue that can seat up to 100 of your closest family & friends.
Request a Quote
The Pavilion Ballroom
The Pavilion Ballroom is our original Edwardian venue space and is perfect for the larger celebrations with a capacity from 180-800 guests.
The beautiful design is set off by the elegant chandeliers and large windows overlooking the private Pavilion lawns and historic alluring gardens.
The venue has a full ballroom size sprung dancefloor, full staging as well as full AV capacities if you wanted to show those memories on the big screens
Request a Quote
Asian Weddings at Wicksteed
With over 12 years' experience, the team at Sovereignty are capable at managing large scale south Asian events with experience in the luxury events industry, with a broad range of cliental.
Managing the client from the initial enquiry stage to the site tour and the planning of their big day, to delivering their event is what they do best!